iHome iA63 iPhone-iPod Alarm Clock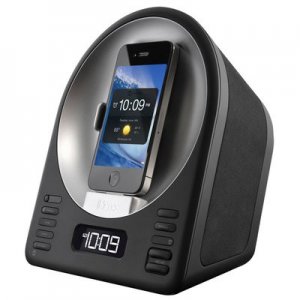 Price & Model
Model:
iA63 iPhone-iPod Alarm Clock
Power
AC Power Adapter:
Included
Alarm Clock Features
Weekend Alarm Schedule:
None
Portable Features
One of the newest alarm clocks built by iHome, the iA63 is a breakthrough in design and functionality for iPhone-iPod Alarm Clocks. This App-Enhanced speaker system has a motorized rotating arm to easily watch videos or listen to music.
iHome iA63 Highlights:
App-Enhanced
Motorized Rotating Dock
Easy Alarm Clock Functionality
Great Sound
iHome iA63 Description:
Experiencing the easy to use iA63 makes alarm clocks fun and user friendly. If you have trouble with your alarm clocks it is easy to set up alarms with the iHome+Sleep iPhone App. This app also simplifies the experience when listening to radio, or checking the weather.
The design is sleek with a matte black finish and silver inner lining. It complements the new iPhone-iPod Touch designs. Part of the design that the iA63 is known for is the motorized rotating dock. Positioned within the middle of the speaker system the dock will rotate 90 degrees to allow for horizontal viewing. This is great for watching videos, shows or movies.
The Alarm functionality is great with gradual wake & sleep buttons, time-sync, and other features. Use the iHome+Sleep and iHome+Radio for optimal experience.
Great For:
Watching Videos, Shows or Movies
Using It's Alarm Functions
Listening to Great Sound
What's in the Box?
Speaker system
Power adapter
Remote Control
User reviews
There are no user reviews for this listing.