iHome iD9 iPhone-iPad Speaker Review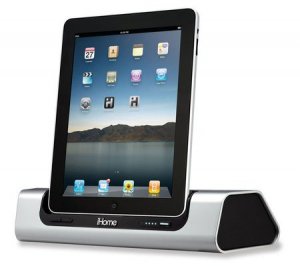 Price & Model
Model:
iD9 Portable iPhone-iPad Speaker
System Features
Remote:
Not Remote Capable
Power
Batteries:
Internal Rechargeable
AC Power Adapter:
Included
Alarm Clock Features
Weekend Alarm Schedule:
None
Portable Features
There are hoge benefits to having the iPad. The iHome is one of those benefits. Portable, app-enhanced, dockable, and great design. The iHome iD9 is the newest portable dock speaker system for the iPad.
iHome iD9 Highlights:
iPad, iPhone, iPad docking
Rechargeable battery
Great sound
Excellent portability
iHome iD9 Description:
With the popularity of all the iPhone speakers, whats to keep this iPad from being just as successful. Made by one of the best brands in iPad, iPhone, and iPod speakers iHome makes a great product.
You will hear excellent sound from this speaker. It features SRS TrueBass and Reson8 technology for full, well-balanced sound that will do all of your music justice. The iHome iD9 takes the convenience of the iPad and displays it with great sound and a sleek design.
Not only is the iHome iD9 great looking but it comes with an auxiliary cable that makes it more versitile for listeners that use other devices. Certain apps enhance this model for easier and even more convenient use.
Great For:
App-ehnanced uses
High Quality Sound
Those looking for a portable speaker system for the iPad
What's in the Box?
Speaker
Universal power supply
User reviews
(Updated: January 05, 2012)
Good design Weak sound
I paid $60 for this at TJ Maxx, so I didn't have high expectations, but it's not worth $60. I paid slightly more for my Bose earbuds, and the sound of this docking station isn't a fraction of the quality.
I've done a bit of research and decided to plunk the money down for a JBL On Stage 400p. Music is life. Can't compromise.
Pros and Cons
Pros:
Sleek design and easy to function
Cons:
Really wimpy sound
Volume doesn't go very high
No remote
Was this review helpful to you?