iHome iDM8 iPhone-iPad Ultra Portable Bluetooth Review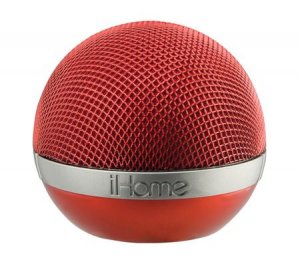 System Features
Remote:
Not Remote Capable
Power
Batteries:
Internal Rechargeable
AC Power Adapter:
Included
The iDm8 is built in a spherical design that projects great sound on in all directions. It is a mono speaker that produces crisp sound for your iPhone, iPad and iPod. Set it up in one simple step by pairing it with Bluetooth.
iHome iDM8 Highlights:
Excellent sound
Omnidirectional spherical design
Works with iPhone, iPad, iPod (Any Bluetooth capable device)
Completely wireless
Rechargeable built-in battery
iHome iDM8 Description:
Free yourself from wires and play great sound anywhere. The IDM8 uses a built-in rechargeable battery that makes it ultra portable. Because it's Bluetooth capable, you do not have to use a dock or cables to hear sound.
The iDM8 is perfect for iPhones, iPod's, iPads and even laptops and desktop computers. Use it as a desk speaker for a small, out-of-the-way speaker system. Once it's charged up you can pack it up and take it with you anywhere.
The USB charging cable doubles as a auxiliary plug that allows you to hook up the iDM8 to any audio device.
Great For:
A portable wireless speaker
Omnidirectional, high-quality sound
2-in-1 audio/charging cable
What's in the Box?
Speaker system
Power adapter
User reviews
There are no user reviews for this listing.