iHome iP47 iPhone Bluetooth Clock Radio and Speakerphone Review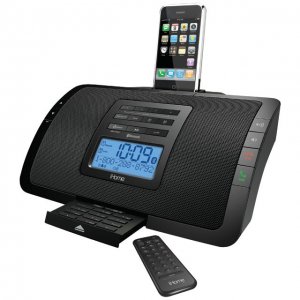 Price & Model
Model:
iP47 Bluetooth Clock Radio
Power
Batteries:
(3) "AA" for clock backup
The iHome iP47 is based on the previous iHome iHCS, but the latter did not support the iPhone and music is interrupted when receiving calls as well as annoying noise genereated from wireless interference when an iPhone is nearby. All that are resolved with the iP47, this new unit not only supports iPhone but it has internal interference shielding so no more annoying noise.
iHome iP47 Bluetooth Clock Radio Highlights
Bluetooth Capable
Remote Control
Dual Alarms
iHome iP47 Bluetooth Clock Radio Description
There is Bluetooth 2.0 support that allows your iPhone to make and receive calls. By presisng the "eject" button on the iHome iP47 just below a large integrated digital clock also reveals a hidden set of buttons which allows you to dial the iPhone. The unit also comes with a built-in speakerphone.
You can set the alarm to play to your iPod / iPhone or even wirelessly from a non-iPhone Bluetooth connected device. You can also set the alarm to play on preset radio stations (four presets for AM, eight for FM).
Power: AC powered or 3 AA batteries
Remote Control: Standard functions
Inputs / Outputs: Auxiliary input for playing music from your mp3 player, music-enabled phone and cd player
What's in the Box
iHome iP47
Three docking adapters
AC adapter
Infrared remote control
User reviews
There are no user reviews for this listing.