iHome iP90 iPhone Dual Alarm Clock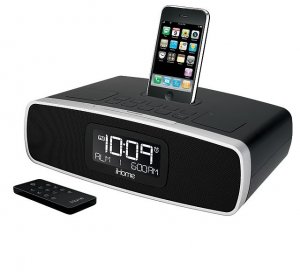 Price & Model
Model:
iP90 iPhone Dual Alarm Clock
Power
Batteries:
(2) "AA" for backup
AC Power Adapter:
Included
Alarm Clock Features
Weekend Alarm Schedule:
7-5-2 Schedule
The iP90 is the latest alarm clock radio offered by iHome. It features a large display, great sound quality, time sync, dual alarm and AM/FM settings for iPhone/iPod. In short, you are completely entertained while you're awake or sleeping.
iHome iP90 Highlights
Dual alarms for iPhone/iPod, playlist, or AM/FM radio
Reson8 speaker chambers for excellent clarity, depth and power
Time sync to sync unit to iPhone/iPod time
Universal dock charges and plays iPhone or iPod
Infrared remote for volume control, EQ settings, alarm and radio
DST switch and Backlit buttons
Line-in jack for other audio devices
Programmable snooze bar
iHome iP90 Description
The iP90 is a dual dock clock radio that lets you play music while charging your iPod or iPhone.
Alarm Clock Features: The iP90 has a time sync button for easy sync with iPhone/iPod time. Dual alarms can be set for the whole week, work days or weekends. The bigger backlit display includes a dimmer and looks stylish.
Radio Features: Reson8 technology audio chambers suit all kinds of settings and can be controlled with a remote. You can play your favorite songs from across the room or turn off the alarm without getting out of bed. Other features include AM/FM presets, programmable snooze times, gradual wake and sleep alarm settings and EQ controls.
Great For:
Anyone having iPhone or iPod
Enhancing the ambience of a room wit a good looking and great sounding alarm clock radio
People who want to hear customized music or radio
What's in the box?
iHome iP90
Remote control
AM antenna
AC adapter
Dock inserts for iPhone 3GS and 3G, 2nd-generation iPod touch and fifth-generation iPod models
Editor review
iPhone Speaker Reviews hearts the iHome iP90
If you're looking for an all around, great alarm clock radio, the iP90 is what your looking for.

Design:
The iP90 is built with a durable plastic that is in a rounded box shape with a deep back to it. It's got a nice looking metal grill on the front next to the display.

The back-lit buttons are laid out in an easy-to-read pattern. However the buttons on the remote are not very easy to press and hard to read in the dark.

Functionality:
All the features you need and some extra ones make the iP90 very useful. Dual Alarms, Day Light Savings switch, Clock Sync Button, Equalizer, and more..

Sound:
The iP90 has very impressive sound. For those who want to turn it up loud from time to time, you will be pleasantly surprised. It will gets pretty loud without distorting sound.

Keep in mind the size of the speaker and it will not sound like full size tower speakers. The sound is very nice for its size. If there are distortions you can always adjust the built in equalizer.

Value:
Being one of the well constructed fully featured alarm clocks, the price is hard to beat. It's well worth the money.

Final Thought:
If you are looking for a good amount of features, alarm clock and radio functionality, and excellent sound this is perfect for you.
Pros and Cons
Pros:
Excellent sound
Great alarm functions
Usable features
Easy to read display
Cons:
Remote buttons hard to press
Was this review helpful to you?
User reviews
Perfect as a paper weight, not as alarm or speaker
I got it as a gift from my boyfriend since I loved his so much. I got it home, took it out of the box and it worked perfectly. The next day, I went to look to see what time it was and it was dark. I pushed every button, tried unplugging it and taking the batteries out, still nothing. It still charged the phone but didn't work as a clock or speakers. I've read many other reviews where people's crapped out too. For the 24 hours it worked it was wonderful but I'm not sure if I want to replace it with the same thing only for it to crap out again.
Pros and Cons
Pros:
Its nice looking and when it worked the sound was awesome
Cons:
Stopped working after less than 48 hours
Was this review helpful to you?