Kicker iK150 iPhone-iPod Alarm Clock Review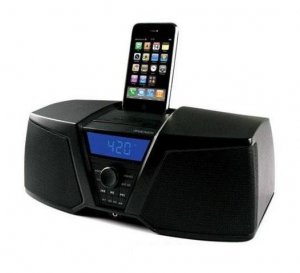 System Features
Remote:
Not Remote Capable
Power
AC Power Adapter:
Included
Alarm Clock Features
Weekend Alarm Schedule:
None
Portable Features
Kicker iK150 Details & Features:
Feel like your alarm clock is lacking sound performance? The iK150 is a powerful, full body sounding alarm clock from Kicker. It comes with all the settings necessary for an alarm clock, and with no useless features. Get the iK150 for strong, dynamic sound and essential functionality.
Kicker iK150 Highlights:
Powerful, dynamic sound
Alarm clock functionality
Dual alarms
Easy to use controls
Stylish build
The iK150 Description:
You won't be short of loud, high quality sound in this alarm clock. It has two separate speaker chambers that help deliver deeper bass with more punch. With the auxiliary input you can connect just about any type of audio device for great listening.
Use the iK150 as an alarm clock with features like adjustable dimmer, sleep timer, dual alarms and even a AM/FM radio. The LCD is easy to read and with the giant knob, getting to any setting is easy with just a push.
Great For:
Using as an alarm clock
Playing high quality sound
Listening to AM/FM radio
What's in the Box?
Editor review
(Updated: August 23, 2011)
Excellent sound - Lives up to Kicker's Standards
Sound:
The iK150 is one of the loudest, best sounding alarm clocks available. It is so loud that it is better considered a desk or home speaker. It comes with a simple equalizer (treble and bass). The sound of this unit lives up to Kicker's excellent reputation.

Design:
Overall the design is pretty slick but feel a little too aggressive with it's angular corners. It resembles the intensity of a sports car dashboard. The construction and material is top quality. It's made with heavy, sturdy plastic and solid speaker construction. The iK150 has a great, "High Quality" feel.

The button layout is easy to figure out and use. However, the memory preset buttons at the bottom of the clock are small and close together, making it tricky to push a specific preset button. Due to the the size and placement, we are not sure how useful the presets will be.

Alarm Functionality:
The alarm clock functionality is minimal. It has traditional alarm clock settings like sleep and snooze. Dual alarms are included, but there are not many advanced options beyond that.

The middle wheel is the main control. It feels like you're using an iPod wheel, so the feeling is familiar. Just push to select desired menu options, then turn the dial to adjust the settings. The main menu has only essential menu items, time, display, sleep timer, treble and bass control.

Press "source" to listen to the radio (FM1,FM2,AM), iPhone dock, or auxiliary input. While listening to the radio turn the dial to tune and press the skip arrows (>>|) to seek. This functionality is a lot like using a car stereo.

Display:
The display is easy to read and gives you the information you want without any clutter. It also has ten adjustable brightness settings. Giving you the ability to have the clock bright during the day and dim at night.

The menus are simple and easy to navigate. We were able to figure out how to set up the clock without reading any of the directions. This is a good test for ease-of-use.

One improvement to the display would be to increase the size of the numbers. They are easy to ready when you are up close but more difficult to read from across the room.

Value:
With a MSRP of $179 it is not the cheapest speaker system on the market. However, when you consider the quality of the sound and construction, we think the iK150 is a good buy.

Ideally, finding the speaker system on sale would definitely be a great deal. This is because you will be getting a great sounding speaker system that will last a long time.

Final Thought:
Incredible sound for an alarm clock. If you're looking for a feature rich, app-enhanced alarm clock this may not be the unit for you. If you are looking for great sound, solid construction, and traditional alarm clock radio functionality, the iK150 from Kicker is an excellent choice.
Pros and Cons
Pros:
Strong, powerful sound
Durable, heavy construction
Sound does not distort at loud volumes
Easy to use features
Dual Alarms
Cons:
No Weekday / Weekend Alarm Schedule
Clock Display is not over-sized
Small bottom row of preset buttons
Was this review helpful to you?
User reviews
There are no user reviews for this listing.