iMainGo 2 ultra-portable iPhone Speaker Review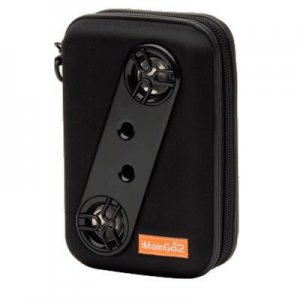 Price & Model
Manufacturer:
Portable Sound Labs
System Features
Remote:
Not Remote Capable
Power
AC Power Adapter:
No AC Power
Portable Features
The iMainGo 2 is an ultra portable iPhone Speaker system. The system zips open and the iPhone is placed in the center and controlled through a clear plastic window.
The iMainGo2 is designed for personal use and to be carried with you.  It is small enough to easily fit in a back pack or purse. The iMainGo 2 sounds good for the size and price point.
iMainGo2 Highlights
Ultra Portable
Uses (4) "AAA" Batteries
Batteries are included
Acts as a protective case for your iPhone / iPod
Less than $40
iMainGo 2 Description
The iMainGo2 is a small speaker system that zips open and holds you iPhone inside.  The iPhone is plugged in through the headphone jack as opposed to the standard dock connector.  Since it connects through the headphone jack the iMain go could be used with other MP3 players. The iPhone is controlled through a clear plastic window.
Sound: The speakers are 2.5-inch titanium speakers and located on the back of the unit.  The sound is clear and is loud enough for a few people to listen to comfortably.
Portability: At nine ounces or just over a half pound the iMainGo 2 is super easy to carry around.  The case has a smooth feel and has a strong durable outside and has a solid construction.
Power: The iMainGo is powered by (4) "AAA" batteries, no external power source, is promoted as getting 30 hours of play time and will not recharge your iPhone.
Great For
Listening to your iPhone on the go
A low cost, portable iPhone speaker option
Students
People on the go
What's in the Box
iMainGo 2
(4) "AAA" Batteries
Editor review
(Updated: November 18, 2009)
Great Sound and Construction
Look and Feel.
The iMainGo has a stylish look and a nice feel. The fabiric covering is well done with a good zipper. The case is sturdy and well constructed helping to keep your iPhone safe. High marks on the construction of the iMainGo 2.

Sound
The iMainGo has a good sound for its size. With that being said understand this system will not fill a room with sound. It is perfect for someone at a desk, a child in their room, or a couple of people. With bands such as "Rage Against the Machine" the sound fell apart when the iPhone was at 50% volume. If you remember that this is a smaller system at a lower price point, it performs as you would expect it to.

Use
With most docking systems the iPhone sits out in the open allowing you to easily go from listening to music to picking it up to take a call. This is not the case with the iMaingo. The case must be unzipped, your iphone is unfastened, unplugged and removed. For iPod users easy access is not that important but for iPhone users easy access to answer a call can be pretty important.

Operating the iPhone through the plastic window works surpriningly well. You loose a little bit of the sensitivity but still found it very easy to use the iPhone touch screen. You do loose access to the side buttons. This means there is only one way to lower the volume and it is done by using the touch screen.

Batteries
Batteries were sort of difficult to install. They are stacked two levels deep so getting the batteries in takes small fingers and a little bit of time and patients.

One downside is that the system does not turn itself off when the music is not playing. This means if you finish listening to a playlist and forget to turn the system off batteries will continue to run down. This is not a big of a deal with internal rechargeable batteries because you they can be easily recharged. If you are forgetful and use standard batteries, you might be buying lots of batteries.

Summary
The iMainGo is a good system with a great sound for the size and price point.

The access to your iPhone is limited. So some common iPhone tasks like making a phone call will take longer.

If you understand what the iMainGo is and is not, you will know if this is the right iPhone speaker for you. We have enjoyed using the review unit.
Pros and Cons
Pros:
Great Sound
Great Price
Great Construction
Cons:
Getting the iPhone in and out can be cumbersome
It is possible to leave it on and drain the batteries
iPhone Controls on one site the speakers are on the other.
Was this review helpful to you?
User reviews
Might as well just be a iPhone case
The iMain Go 2 works pretty well. sound quality is good for such a small system with small speakers. It's kind of awkward to try to listen to because if you hold it to control the iPhone the speakers are not facing you (not good for videos).

I am a little frustrated that I have to worry about battery life all the time.

Otherwise, Its nice having a sturdy case that I can keep my iPhone in when I'm on the road or whatever. And after looking at other portable speakers, I realized I had gotten a pretty cheap one, so I feel a little better about it.
Pros and Cons
Pros:
Decent sound, Case will last a while, May work for someone who travels a lot.

Cons:
You can bring it anywhere, but not really a good way to set it up. Short battery life X2 (Both iPod/iPhone battery and the 4 AAA batteries it takes).
Was this review helpful to you?
You won't be dissapointed!
Purchased one after researching for some Portable Speakers to take along on our family camping trips. Its an absolute hit on our trips, especially around the campfire.. Plays lough enough for our campground to hear without disturbing our neighbors.

The sound is very loud and clean. Affordable too. Don't let the low price fool you! I would definitley recommend this!
Pros and Cons
Pros:
Small
Portable
Lightweight
Amazing Sound with bass
Easy to use
Was this review helpful to you?