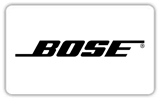 When you buy a Bose audio system, with its unique sound and speaker technology, you know you can expect high quality sound right out of the box. Bose products cater to aesthetics as well as creature comfort and performance in reasonable prices.


SoundDock Series II
improved design from the previous SoundDock
compact size, measuring just about 6.6 inches high by 12 inches wide and only 6.5 inches deep
eight-button Infrared remote
auxiliary input for playing music from your mp3 player, music-enabled phone and cd player
works with both ipods and iphones
charges both the original iPhone and iPhone 3G where as the previous version only charges the original iPhone
immune to cellphone interence with its improved design, you don't hear the annoying intermittent buzz noise unlike the previous SoundDock
Bose SoundDock Series II iPhone Speaker Review
Bose Company History
Dr. Amar G. Bose was an MIT electrical engineering grad student in the 1950s. During that time he purchased a stereo system which did not live up to its impressive technical spec. He was disappointed.

Bose Corporation was founded by him in 1964 when he was an MIT electrical engineering professor. Its mission and also the company slogan, is to achieve "better sound through research".

From then on, Bose has continuously been improving its speaker technology, automotive sound system as well as home entertainment system (Bose Lifestyle® systems). You can find Bose products everywhere in the world from the stereo that you listen to everyday in your cars to the Japan National Theatre. Whenever you can hear high quality sound, chances are its coming from a Bose.

In 2006 Bose ranked second in Home Audio retail, just behind Sony. The ranking was based on retail point-of-sale data for the period of January through October, 2006.