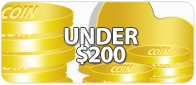 Some have a little more of a budget to work with. $200 or less will get you a very nice iPhone Speaker System!
What makes a popular iPhone speaker for less than $200:
Brilliant sound quality
Looks very similar to the more expensive systems
More features built into the system
and the list can go on....
iPhone Speakers for under $200:
Home iPhone Speaker Gifts
Klipsch iGroove
Looks great, sounds great and is well reviewed. It has an s-video output for watching videos on a TV while using it.
User Rating: 9.2
MSRP: $149.99
Buy from Amazon
here
. (Approx $140)
Read the complete
Klipsch iGroove Review
Portable iPhone Speaker Gifts
Logitech S715i
This is new (2010) Logitech portable speaker system. Nice clear sound with solding construction. Powered by rechargable battery or AC Adapter. Includes remote control & carrying case.
Editor Rating: 9.3
MSRP: 149.99
Buy from Amazon here
. (Approx $130)
Read complete Logitech S715i Review

iPhone Alarm Clock Gifts
iHome iA100
The iHome iA100 is the newest premium alarm clock radio to feature Bluetooth. Also a new feature for iHome speaker systems is that it works with iPad. iHome has also made an app called iHome+Sleep that enhances your alarm clock by adding more features...
Editor Rating: 9.3
MSRP: $199.99
Buy from Amazon here
. (Approx $199)
Read the complete iHome iA100 Review
Kicker iK150 Alarm Clock
Built for exceptional sound and great alarm clock design, the iK150 blows ordinary alarm clocks out of the water. The folks at Kicker must really like designing loud-ass speakers, because this one is a beast.
Editor Rating: 8.7
MSRP: $199.99
Buy from Amazon
here
. (Approx $110)
Read the complete
Kicker iK150 Review
More Gift Guides